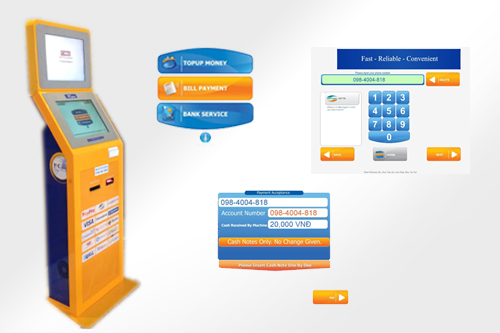 SECURE TRANSACTIONS
Self-service Kiosk system
MK KIOSK is an automatic payment machine, which helps customers to load cash into the kiosk and pay bills automatically for services which are installed.
MK KIOSK is equipped with a touchscreen to provide detailed steps, ranging from selecting the services to giving instruction to load money until the payment process has been completed with confirmation bill. MK KIOSK also supports language customization.
MK KIOSK is ideal for stores, supermarkets and shopping centers, especially optimized for remote control and management thanks to its usability, safety and user-friendliness.
Configuration:
CPU
Cash acceptor: to accept cash for payment of services and products. The cash acceptor is capable of recognizing various denominations and currencies whilst also providing checking for counterfeit money. Banknotes are stored in a special secure box (stacker).
CUSTOM VKP80 Printer: to print bills/reciepts.
GPRS/GSM modern, antenna.
Watchdog
On/off power
Advertising monitor: 17"
Main touchscreen: 17"
Advertising features on MK KIOSK:
MK KIOSK is equipped with secondary screen (17") to support an advertising operation. In addition, MK Kiosk could also provide advertising on the main screen, on the back of the bill/receipt or through stickers on the Kiosk body.
Flexible in customizing each area, location and place to offer advertising space.
Multi-means of advertisement (main screen, secondary screen, bills/receipts, stickers)
Easy to implement interactive advertising.
Large screen for impressive and memorable thought.
Advertisers can customize the length and frequency of each advert.
MK Kiosk downloads adverts automatically from the server: Adverts are stored locally so that the MK Kiosk does not have to re-download the whole file of the advert in the case of network connection issues between Kiosk and Server.
Centralized management system provides management operation of customers, orders, equipment, content and length of adverts, etc.
11 advertising spots on the screen are able to interact with each user's payment steps.
In particular, one of the advantages of adverts on the MK Kiosk is the ability to customize depending on customers' payment services, i.e.: for those customers who select bank services then relevant advertising material for those banks will be displayed. For those who select mobile top-up services then related adverts for telecommunications and mobile phones, etc will be displayed.
Related secure:
Other solutions