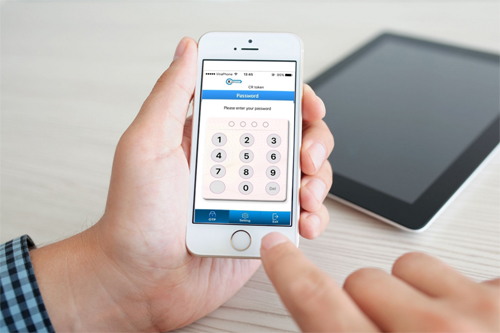 SECURITY
KEYPASCO MULTI-FACTOR AUTHENTICATION SOLUTION
The Keypasco solution would benefit Internet Content Providers (ICPs) who have a large quantity of users and a need to secure them against threats like identity theft, phishing attacks, man-in-the-middle and/or man-in-the-browser attacks, or other threats.
This solution offers a hardware-free, patent-approved and software-based authentication solutions. The service combines factors like device fingerprints, geographical locations, a 2-channel structure, proximity of mobile devices, and a risk behavior analysis to offer strong multi-factor authentication.
How does it work?
The Keypasco technology is a strong authentication solution consisting of the Keypasco server (Borgen), one or several clients (Vakten), and a web channel.
The Keypasco service Embedded Authentication Service solution is based on different product components: Vakten (for desktop, smartphone and browser) and the back-end server Borgen. All versions of Vakten provide a two-channel structure for secure authentication and secure tasks, with one exception: Vakten for Browser.
Vakten for Desktop: The Vakten client is installed on the end users' desktop device to identify the device and location, the platforms we support are Windows, Mac and Linux. The Vakten for desktop can also offer the functionality of secure tasks. This verification has the same 2FA level of security as an OOB and is distributed via a secure channel between the Vakten client and Borgen server. Vakten for Desktop can be used to secure web solutions as well as desktop applications.
Vakten for Smartphone: The client is installed on an end user's device to identify the device and location and can confirm a secure task through an Out-of-Band verification channel. Platforms supported are iOS and Android.
Vakten for Browser: The Keypasco solution can verify device and location information without the end user installing a client. Platforms supported are Chrome, Firefox, Internet Explorer, and Safari, and we use JavaScript integration and a personalized cookie as the distribution channels. Vakten for browser does not support secure task as a stand-alone service, but can if combined with the Vakten for smartphone.
Borgen: Keypasco Server: Keypasco authenticates the end user by identifying and associating their device and location to a userID (no personal data about the user is stored with Keypasco in either client or server) within the Keypasco server Borgen. The server is located in the cloud and self-scalable to handle any volume.
What does it work?
Keypasco offers the service to a global market and has established partners around the world. Support is offered 24/7, and we guarantee 99.9% availability. Headquartered in Gothenburg, Sweden, Keypasco has a second office in China and established partners in Brazil, Taiwan, and Russia.
How does it mitigate threats?
Phishing: Keypasco mitigates phishing by linking the user with a geographical location and device fingerprint. A user's ID and password will not work from a wrong device and/or location.
Man in the Middle & Man in the Browser: Man in the Middle (MitM) and Man in the Browser attacks are mitigated by Keypasco's 2-channel structure service and/or Out-Of-Band (OOB) mobile authentication.
Malicious Virus Control (100% control like a VNC) Viruses, Trojans, and other infections can control or replicate an end user's device. Keypasco mitigates these threats by offering OOB  authentication, enabling a user to regain control of the device.
Theft/Robbery: In addition to virtual threats, physical theft of a device can compromise a user'security. With Keypasco's proximity feature, a user's account is safe even if a device is stolen
Related security:
Core Businesses