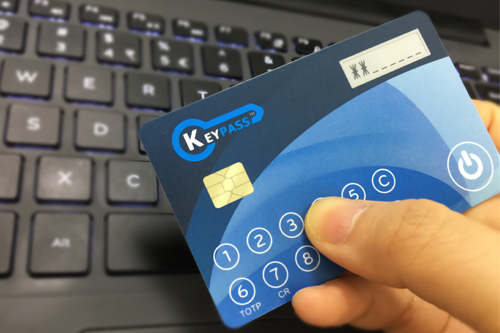 SECURITY
KEYPASS OTP AUTHENTICATION SOLUTION
KeyPass One-Time Password (KeyPass OTP) is the high-performance authentication solutions with scaleble system to meet all security requirements.
This solution supports multi-token types ((OTP display card, OTP token, OTP software token, Challenge-Response token, USB OTP token and SIM OTP sticker) and multi-authentication modes, ideal for a wide range of applications including e-commerce, e-banking, online gaming and other online services.
Support variety of Databases, operating systems included:
Windows (32-64bit)
Linux(32-64 bit)
Oracle database
My SQL
This solution allows organizations to protect their customer's identities and transactions at all time. KeyPass Central System is a scalable and redundant host system, consisting of:
•  The KeyPass Server (host system for verification of One Time Passwords and Challenge/response)
•  The KeyPass Key Manager (for management of the operative keys and generating data for device personalization)
•  The KeyPass CSA Web Server (a web based customer service application).
The KeyPass Central System is designed to scale very well; you can add additional KeyPass Verify Servers into a server cluster to increase overall performance. This approach enables TrustLink to start with a limited installation and grow with TrustLink's customer base, by adding servers as and when needed. However, we recommend at least one extra server for redundancy. Very large user populations (i.e., millions of users) are easily divided into several databases.
Related security:
Core Businesses