MK GROUP BECAME STRATEGIC PARTNER OF RESEARCH AND APPLICATION CENTER FOR RESIDENTS DATA (RAR)
On June 20th, 2021 in Hanoi, Police Department on Administrative Management of Social Order (PDAMSO), Ministry of Public Security held the Ceremony to announce the decision to establish Research and Application Center for Residents Data (RAR) and Signing Ceremony of Strategic Cooperation. RAR is a public unit belonging to National Population Data Center, PDAMSO and Ministry of Public Security. MK Group Joint Stock Company (MK Group), as a Strategic Partner, attended the ceremony and signed a memorandum of understanding with RAR.
Lieutenant Colonel Nguyen Thanh Vinh – Director RAR said that the RAR has formed the development strategy of unit C06, including: research and application of new technologies in population management; diversification of statistical products, data analysis; focus on developing products to serve the need of the Government and citizens. In addition to that, the Center also cooperates with businesses to provide products including: ID card consultation in terms of security control, fingerprint acquisition device, chip reading device, some statistical data analysis results… serving socio-economic development; complete and supply products such as biometric authentication devices, mobile verification applications… for the fields of finance and banking…; focus on coordination, research, investment in development of digital identities, electronic authentication and digital signatures…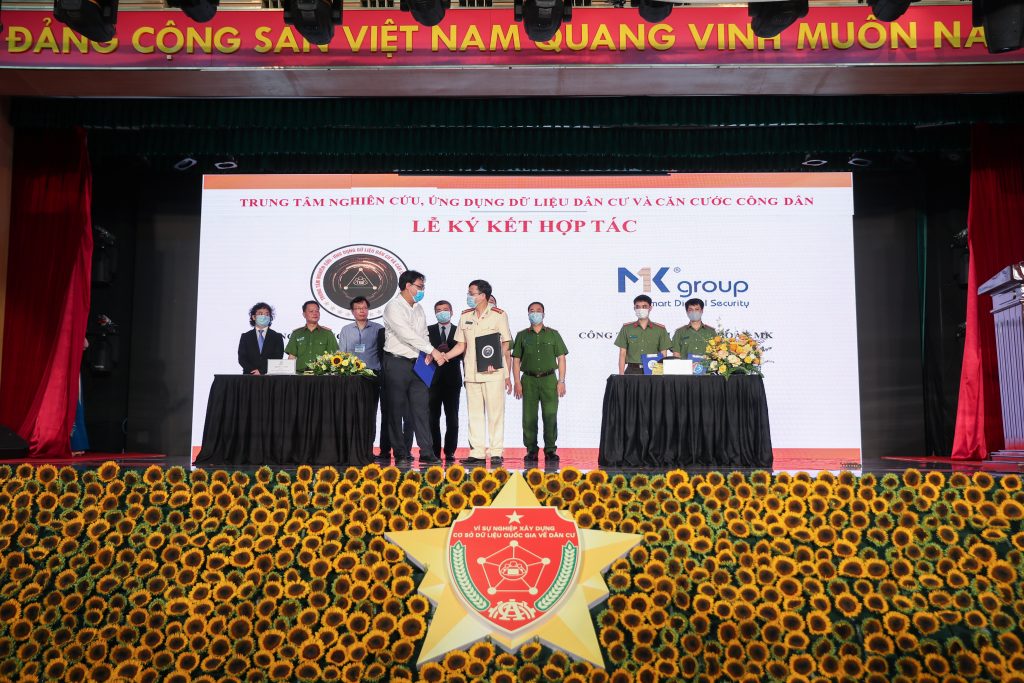 MK Group is proud to become a strategic partner of RAR. With a solid information technology foundation and more than 22 years of experience in building and deploying many smart card programs, ID cards, and security authentication solutions domestically and internationally, MK Group is currently the leading supplier of smart cards and ID cards as well card solutions. Moreover, MK Group also brings high-tech security and management solutions, focusing on research and development of management solution products to serve the process of building e-government.
Immediately after announcing the establishment decision, RAR has signed cooperation documents with its strategic partners and customers, including MK Group. MK Group will provide solutions based on the national database of population, biometric data of ID card, as well as continue to accompany and cooperate effectively with RAR to serve the government, enterprises and citizens, contributing to the development of digital government, digital economy and digital society on the basis of digital citizenship. Attending the ceremony, Mr. Do Viet Ha, Chief Technology Officer of MK Group has shared his joy and pride in participating in the project and expressed his admiration for C06 team and the Ministry of Public Security for the two major projects. Additionally, Mr. Do Viet Ha, on behalf of MK Group, also expressed the desire of the company to focus on research and further development in terms of technology to quickly complete the infrastructure for e-government in the near future.
The official establishment and operation of RAR shall greatly contribute to the process of building an e-Government towards digital Government, a digital economy and a digital society, while still allowing Vietnam to enter a new era in population management, meeting the requirements of international and regional integration, bringing practical benefits to the citizens of Vietnam./.