MK Group attends Vietnam Information Security Day 2017
On December 1st, 2017, MK Group attended the annual Vietnam Information Security Day 2017, co-organized by the Information Security Department of the Ministry of Information and Communications and the Vietnam Information Security Association (VNISA), held at Lotte Hotel, Ba Dinh District, Hanoi.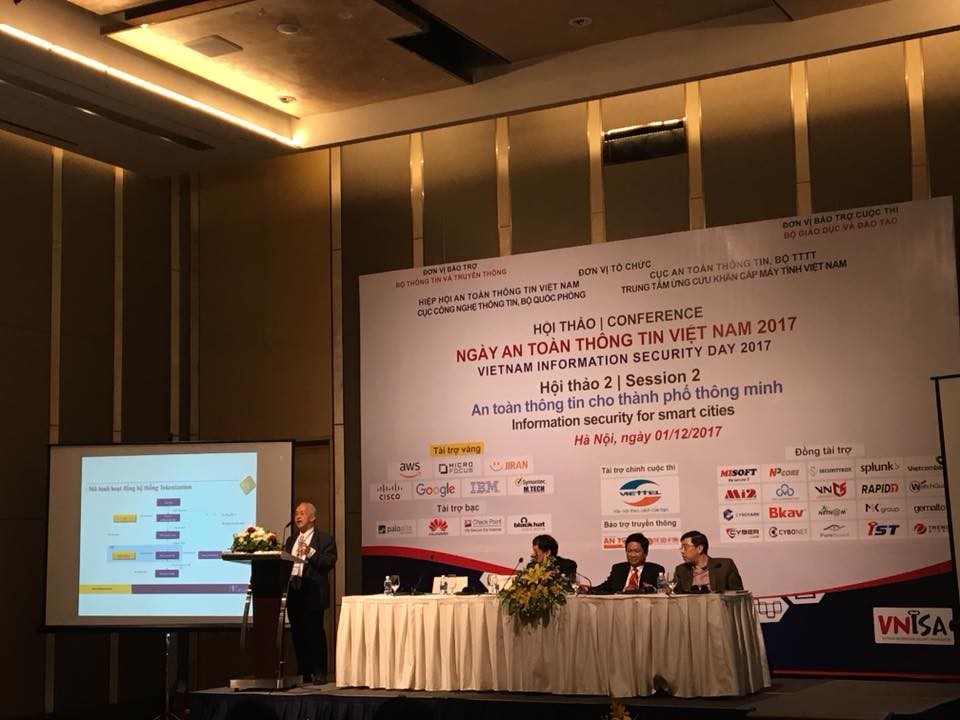 The event included the following activities: International conference and exhibition to display and introduce information security solutions from domestic and foreign vendors.
Vietnam Information Security Day 2017 featured the topic "Smart security in the new connected world", taking place in the context of the ever-present challenges of information security and cyber security in parallel with the innovation of science & technology and the increased popularity of applications in the Internet of Things (IoT) environment. In addition to the risk of network attacks such as malware, invading system to steal data, increasing persistent threat, etc., the emergence of ransomware has become increasingly sophisticated causing huge losses for individuals and businesses. Technology infrastructures including telecommunication, data center, e-commerce application, etc. are also the targets of hackers and cybercriminals.
MK Group has endlessly strived to research and develop smart digital security authentication solutions to protect different organizations and their customers in the Industry Revolution 4.0.
MK Group also had a booth introducing different security authentication solutions for Finance – Banking, Government and Enterprise such as:
• Prim'X Premium Data Encryption Solutions granted the business licenses by the Government's Cipher Committee to protect the entire IT infrastructure and internal and external content of the sharing data;
• KeyPassTM OTP secure authentication solution with a variety and flexibility of options fitting the budget and various security authentication needs to help protecting the identity and transaction of customers in e-commerce activities, e-banking and other online activities;
• Public Key Infrastructure Solutions – MK PKI solutions provide digital certificates/digital signatures, making financial transactions, e-commerce and electronic document management more secure.
In the framework of the event, at the seminar on "Information security for smart cities", Mr. Le Minh Quoc – CTO of MK Smart made a presentation on "All-in-one security ecosystem using chip embedded into IoT devices and artificial intelligence (AI) with the Industry Revolution 4.0" with the main contents as follows:
• All-in-one security ecosystem using chips with security applications such as Public Key Infrastructure (PKI), Match-on-Chip (MoC), biometric authentication by OTP (One-time Password) & Secure-on-Demand (SoD) on a D-ID platform (Dynamic ID) with API programming libraries for chips embedded in the IoT, AI devices, etc.
• KeyPass Reader Token – security product for the All-in-one security ecosystem.
• Security with Tokenization using QR Code.