IMPRESSIVE BRANCH DIGITISATION – MB, MK GROUP AND ENTRUST WERE HONORED BY THE ASIAN BANKER
On August 12, 2021, within the framework of the "Financial Technology Innovation Awards 2021" organized by The Asian Banker, Military Commercial Join Stock Bank (MB), MK Group (Vietnam) and Entrust (USA) were honored to receive The Asian Banker Award for the category of "Best Branch Digitisation in Vietnam" Enhancing customer experience with financial card instant issuance through automated banking model – MB SmartBank, the digital transformation journey of MB continues to impress the evaluation board of The Asian Banker.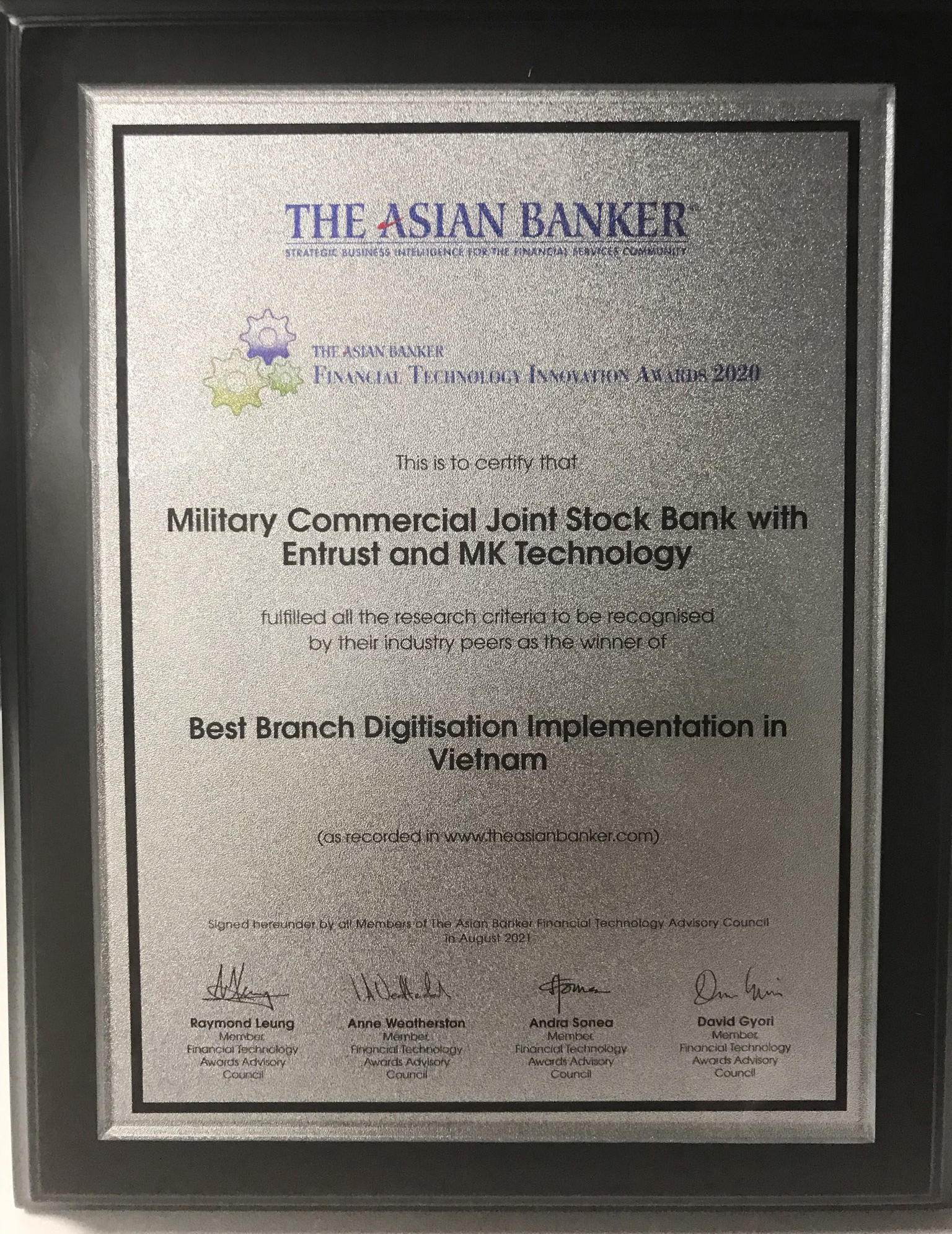 With the advice and cooperation of MK Group Joint Stock Company (MK Group – Vietnam) and Entrust Corporation (USA), MB has successfully deployed an instant card solution for 30 MB SmartBank systems nationwide. MB has successfully connected digital application MBBank with the MB SmartBank system, providing customers with seamless O2O transactions (Online to Offline and vice versa).
This feature, according to The Asian Banker, is one of the most outstanding features of the MB SmartBank model.
Mr. Angus McDougall, Regional Vice President – Entrust Asia-Pacific, also shared his view: "Entrust has so far implemented hundreds of instant card issuance programs for many banks and financial institutions worldwide. MB Bank is one of the few banks that has combined and synchronized O2O transactions (Online to Offline and vice versa), seamlessly combining the transactions on mobile banking application with transactions on MB Smart Bank's self-service system. This is really an innovation which is very suitable for the banking digital transformation trend worldwide and significantly improve customer experiences, especially during the Covid-19 pandemic."
Ms. Phan Thi Quynh Hoa, CEO of MK Group shared her view: " With more than 22 years of experience in building and implementing millions of domestic and international secure authentication and banking card schemes, with a team of dedicated, experienced experts and engineers, modern infrastructure and high capacity in supporting that can fully meet the above requirements, MK Group and its partner – Entrust have been selected to deploy a distributed card issuance solution for MB."
Entrust and MK Group – a long-term partner of Entrust in Vietnam have quickly and successfully deployed the Entrust instant issuance card software for MB. These companies are equipped with rich experiences and resources to consult, develop, install, integrate, deploy and support the operation of backend and frontend systems, including training and operational support.
Putting MB SmartBank – the automated banking model into practices, MB has been completing its digital ecosystem, providing its customers with digital banking experience, leading the digital transformation in the banking industry.
Financial Technology Innovation Awards is organized by The Asian Banker annually to recognize the most outstanding technological innovation solutions in the banking sector. The award attracts more than 150 entries presenting many innovative solutions, clearly demonstrating the significant benefits that technology can bring in the banking and finance industry every year.