"Financial instant issuance – How to revitalize your card program" workshop
On October 23rd 2018, the workshop namely "Instant card issuance – How to revitalize your card programs" was successfully co-organized by MK Group and Entrust Datacard at Majestic Hotel, Ho Chi Minh City, Vietnam.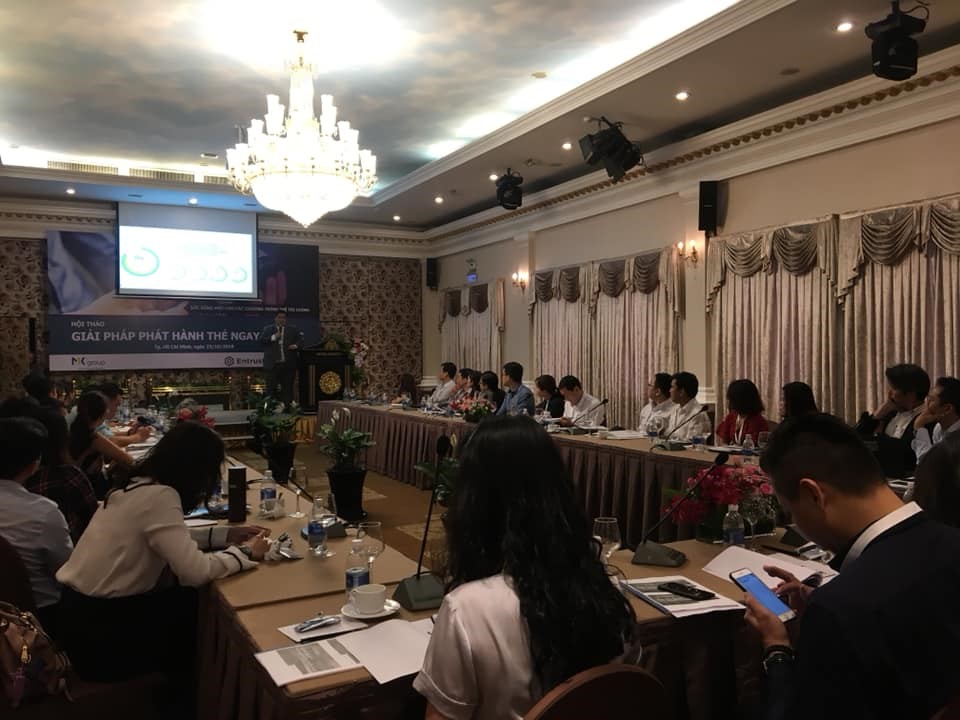 Currently, one of the major concerns of various financial institutions is the emergence of new payment methods such as QR code, electronic wallet, online payment methods, etc. This has made a considerable impact on the loyalty of consumers with the payment cards. Although the need for bank cards remains, customers are taking on new payment methods quickly.
Facing this challenge, an important question posed to financial institutions is whether banks' traditional card issuance practices help them to achieve their goals of "Engaging customers – Driving sales" anymore? Is it the high time for banks to switch to instant card issuance right after the customer's need for a card arises? This can help to shorten the lead time and cross-sell financial products or actualize the co-branded card program between banks and businesses in just a matter of minutes. In addition, one of the challenges is the lack of practical implementation experiences and the role of suppliers in consulting, system integration, maintenance and technical support activities during the implementation phase.
In response to customer concerns, Entrust Datacard and MK Group team have figured out the key issues that issuers have to face up with. They include the selection of solution provider, compliance with security regulations, budget optimization and related maintenance services (*), in addition to the best practices with the aim of increasing the activation rate of payment cards, building loyalty amongst customers as well as "Revitalizing financial card program".
At the event, visitors also had chance to experience the demonstration of CardWizard solution – the instant financial issuance software and Datacard® CE875 – the desktop card issuance system in order to have a better understanding about the flexibility, speed, and feasibility of the instant card issuance solution.
With the broaden knowledge and more than 40 years of experience in card issuance field, Entrust Datacard has co-operated with MK Group to provide a comprehensive card issuance solution, which suits different financial institutions, business models and card issuance methods. With the instant card issuance solution, retaining existed customers and attracting potential customers becomes a viable way for financial institutions to build loyalty and drive sustainable development.
(*) Kindly refer "5 questions to consider about financial instant issuance" by Alyssa Arredondo – Marketing Director of Entrust Datacard to have a better understanding about the solution.