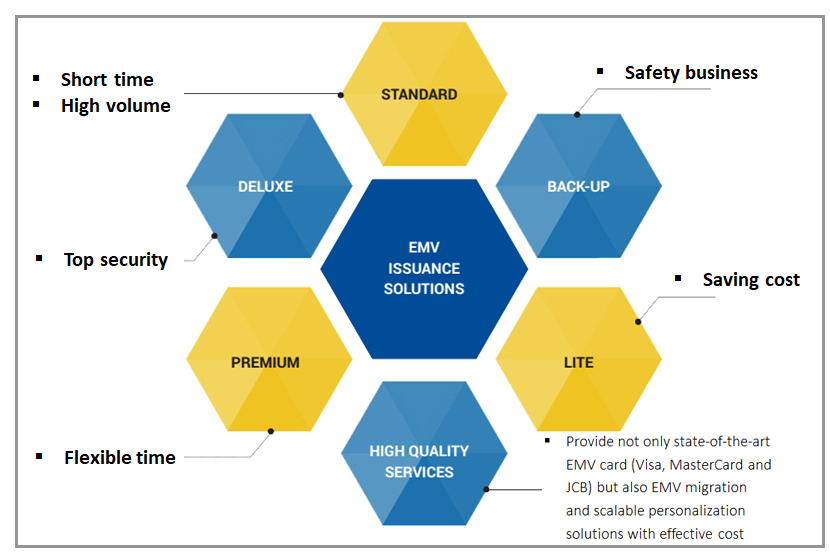 SOLUTIONS
EMV CARD ISSUANCE PACKAGES
EMV is the global standard for smart card payments and acceptance devices and was named after the original developers, Europay, MasterCard and Visa. EMV refers to smart or chip cards that contain an embedded chip or microprocessor, which provides stronger security features and other capabilities that are not possible with traditional magnetic stripe cards. EMV has already been adopted in many countries.
EMV provides merchants with increased fraud protection from counterfeit, lost or stolen cards, because the embedded chip is more secure than the traditional magnetic stripe technology. The chip in EMV enabled cards generates a unique one-time code that cannot be replicated by counterfeit cards.
MK Americas brings a comprehensive EMV issuance solutions which is flexible for Customers' requirements and budgets including 5 EMV packages as belows:
STANDARD Package
STANDARD is the most popular service package, compatible with the joint-stock commercial banks beginning the converstion to international EMV cards. The STANDARD package offers the following advantages:
The entire process of EMV card personalization will be done at the factory of MK Smart.
Customers do not have to invest in people, systems and space.
Entire card personalization will be done by MK Smart. Customers only have to send the data to the MK Smart's factory
Quick implementation
DELUXE Package
DELUXE package is compatible with bank policies to not send data outside of the bank environment, or to fully control 100% of the data. The DELUXE package has many advantages, especially:
Equipment, hardware and software of MK Smart are located inside the bank for personalization.
In-place personalization. Bank proactively protects their data.
Quick implementation
PREMIUM Package
PREMIUM package is recommended for customers who want to actively personalize cards in banks and saving shipping time from factory of MK Smart. PREMIUM package has many advantages, including:
Data prepared in MK Smart's factory, personalization machines and software located in the bank's location.
Bank initiative in issuance.
No time wasted for transport between MK Smart factory and the bank. It can be deployed in a branch of the bank.
LITE Package
With the LITE package, the bank can take advantage of the existing personalization system that banks already have:
Data prepared in MK Smart's factory, personalization is done by the personalization system already available in the bank. Which is installed with the personalization software of MK Smart at the bank locations.
Banks benefit from the existing MK Smart personalization system, which is efficient and cost saving.
BACK UP Package
BACK UP Package provides business safety for overcoming problems, such as:
System Malfunctions
Increase the capacity of instantaneous issuance?
Update Technology – Solutions
Reduce the cost of system and human investment.
Other solutions:
Core Businesses