MK Smart Joint Stock Company is granted NAPAS certificate to personalize domestic chip cards in accodrance to VCCS standards
Hanoi – MK Smart Joint Stock Company (MK Smart) – a member of MK Group on November 5, 2019 was granted a NAPAS 's certificate to confirm the company's eligibility to manufacture and personalize VCCS domestic chip cards (Vietnam Chip Card Standard).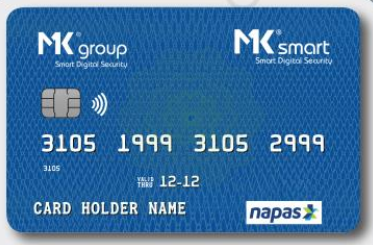 Earlier, on May 21, 2019 MK Smart officially became the first and sole Vietnamese enterprise to obtain NAPAS certificate for manufacturing VCCS (Vietnam Chip Card Standard) dual-interface chip card .The name of "Chip Lotus" was inspired by the image of lotus flower – which is the national flower of Vietnam, in order to honor the VCCS domestic chip cards the first time ever issued in Vietnam.
As the #1 expert in the field of smart card manufacturing of Vietnam and owns 2 smart card factories, MK Smart is the only company in Vietnam to be granted certificates from international card organizations for manufacturing and personalizing financial cards including Visa, Mastercard, JCB, UPI and VCCS. Since 2016, MK Smart has been a member of the Steering Committee for the Formation of Domestic Payment Card Standard – VCCS and has made practical contribution to the process of building and testing the domestic standards.
In order to obtain the certificate for manufacturing chip card products, Lotus chip of MK Smart must meet the domestic payment card technical standards. Its functions and applications are strictly tested by NAPAS and the security was tested by international security labs. It has undergone also plenty of EMV standard stringent tests.
In order to obtain the certificate for VCCS card personalization, MK Smart's factories must undergo through many inspections and surveys executed by NAPAS,'s experts ensuring strict adherence and secure the process of receiving clients's data to card delivery. The process must be monitored by modern IT infrastructure, continous control by skilled professional technicians to ensure the efficiency and absolute security.
Moreover, in addition to banking card products, MK Smart also provides a comprehensive smart card ecosystem for VCCS chip cards with value-added applications such as payments, public transportation, non-stop toll collection, public service fees, intergrated on-chip security authentication solutions as well as other public utilities.
Mr. Nguyen Trong Khang – Chairman of MK Group said the suceess of MK Smart in archieving certificate of manufacturing and personalizing VCCS chip cards is once again a clear proof on the leading position of the company in the card industry in Vietnam and the region, especially in the field of financial and banking cards. MK is committed to support organizations and banks in Vietnam to successfully carry out the VCCS chip card migration before the end of 2021 in accordance with the requirements of the State Bank of Vietnam, as well as to relieve the pressure of technology and infrastructure based on its capacity & experiences in implementing card inssuance programs in the past 20 years.