MK Smart factory in HCMC is granted a MasterCard certificate for performing financial card personalization
On April 30, 2019, the MK Smart factory in HCMC was officially granted the Certificate  of Compliance by MasterCard to perform card personalization, chip personalization and PIN mailing printing services.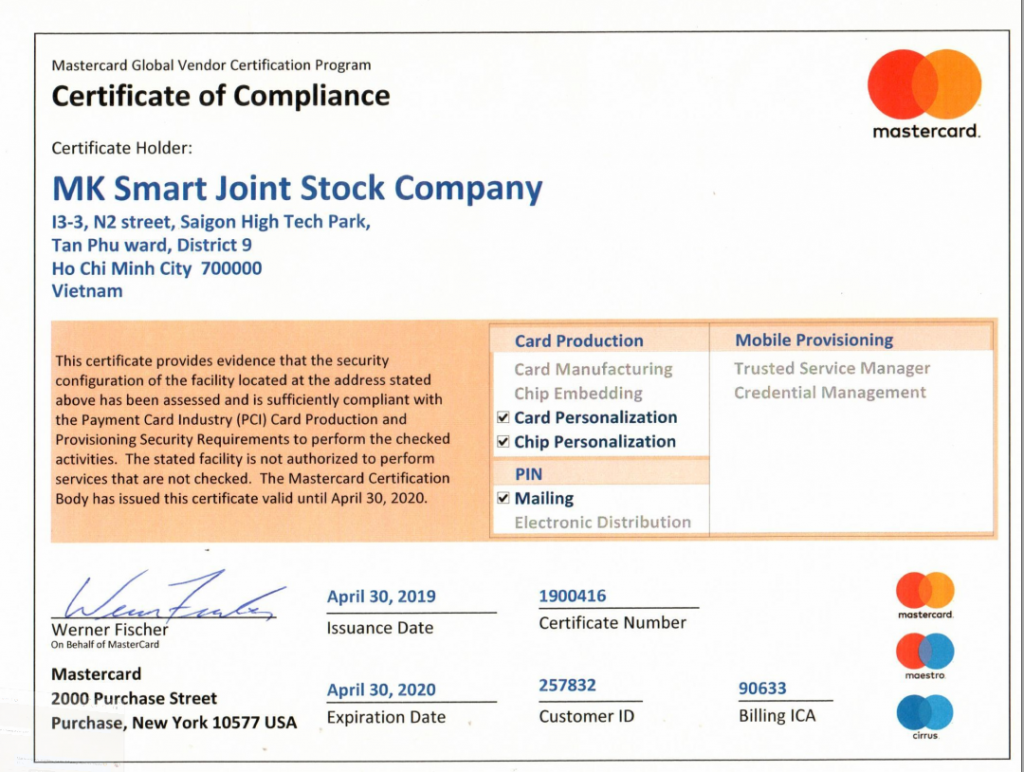 The reason that MK Smart was granted this certificate is due to the fact that the MK Smart factory in HCMC completely satisfied the stringent requirements of MasterCard for security and information technology infrastructure. Currently, the MK Smart factory located in High Tech Park – HCMC is equipped with an advanced physical security system that includes security applications with cutting-edge technology—securely protecting clients' data for financial institutions.
In addition, all employees of the factory receive training on annual security regulations and a new internal audit department has been established under the purview of the Security Director.
This certificate will allow MK Smart to serve banks issuing MasterCard-branded cards in the South of Vietnam and in neighboring countries, such as Laos, Cambodia, etc. faster and more effectively. It will help shorten delivery schedules, as well as reduce transportation costs. Previously, MasterCard-branded financial cards had to be personalized in the MK Smart factory in Hanoi.
MK Smart in HCMC was inaugurated in 2010 in HCMC High-Tech Park with a total surface of 3,000 square meters, fully meeting the demands of printing tens of millions of cards for businesses and organizations throughout the Southern Vietnam market. From now on with MasterCard certification, the MK Smart factory can serve banks in the Southern region with secure financial card personalization. In the future, MK Smart will proceed to apply for Visa certification to perform financial card personalization for its factory in HCMC.