MK Smart accompanies with commercial banks in Vietnam for a successful VCCS chip card migration
On the morning of March 26, 2019 at Melia Hotel Hanoi and March 28, 2019 at Majestic Hotel in HCMC, MK Smart Joint Stock Company (MK Smart) has collaborated with Infineon – (a renowned secure chip card manufacturer for global payment applications) and NEXT Biometrics ( a leading company in advanced fingerprint sensor technology for applications that require highest level of security and accuracy), to successfully organize:" Accompany with commercial banks in Vietnam for a successful VCCS chip card migration" conference.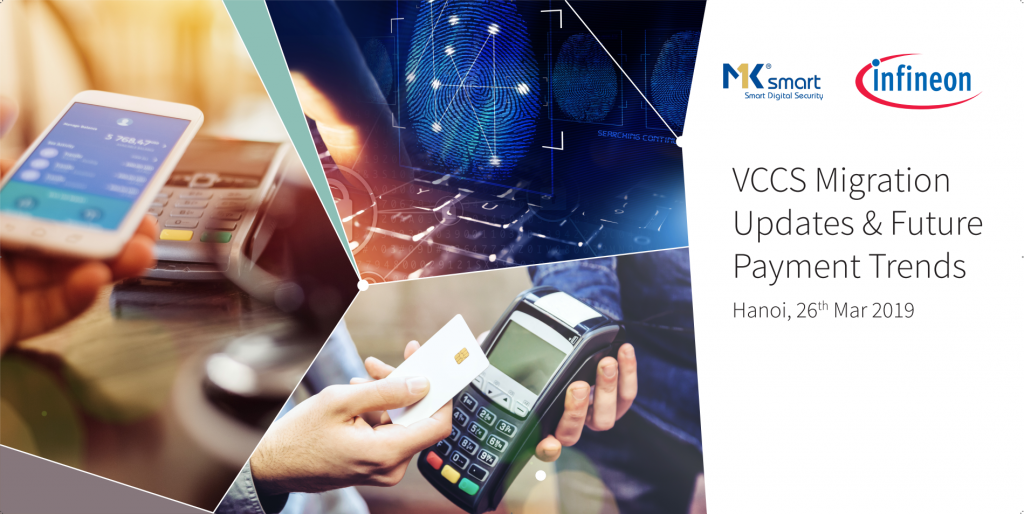 October 10th , 2018, State Bank of Vietnam (SBV) officially issued Vietnam Chip Card Standards. According to the roadmap approved by the Governor of SBV, by December 31st , 2021 at the latest, the entire magstripe cards in Vietnam must complete the migration to VCCS standard chip cards.
With 70 millions of domestic cards need to be migrated in to VCCS chip cards currenttly, if Vietnam is behind this schedule, it could become the country for card frauds with increasing number of skimming and phishing cases.
Scope of VCCS including contact and contactless chip cards that compatible with EMV standards will help banks implement new issueing system effectively by inheriting their current EMV card issuance and acceptance infrastructure. The migration also allows banks to apply dual interface cards (supporting contact and contactless interface) upon the first stage, eliminating one step of migration from magstripe cards to contactless cards as the lesson learnt for other countries.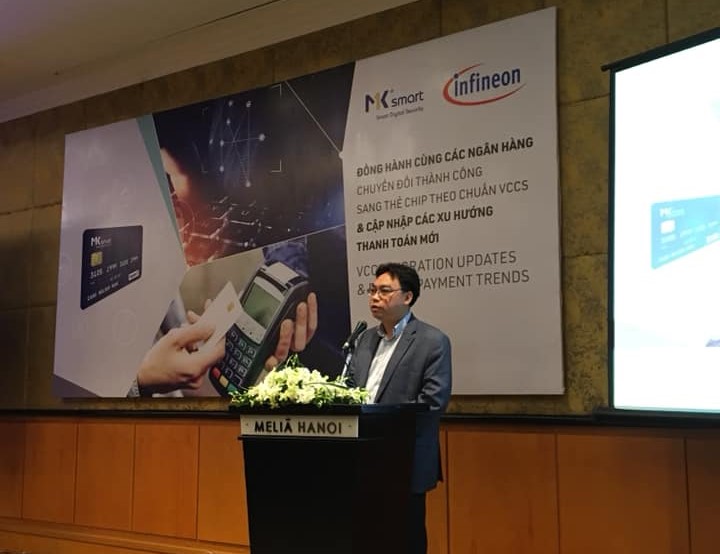 At the conference, MK Smart's experts had introduced to banks and financial institutions details of additional value in its comprehensive solution packages conformity to VCCS standards. MK Smart provides new technologies related to chip card production with design options, such as printed serial number, image on chip module surface, diversifying color of chip module to increase brand recognition and aestheticism of the cards. Along with this, MK Smart also provide automated card testing solutions to exclude card errors after manufacturing and personalization.
With years of experience working with international card organization including Visa, MasterCard, JCB, UPI and NAPAS, MK Smart's expert have recommended card issuers to choose dual interface technology to ensure quick, seamless and fraud prevention.
Also in the two conferences held in Hanoi and HCMC, one of the technologies introduced by MK Smart and NEXT Biometrics and highly interested by attendees was biometric payment technology with finger print authentication.With absolute security and high durability, ease of use, this solution promises to be one of mega trends in the future global payment.
In addition to biometric solution, Infineon also proposed and demonstrated advanced and fashionable wearable payment solution. Those solutions will provide more options for banks in Vietnam in implementation of their payment methods to bring utilities to consumers and catch up with global payment trends.
To conclude, Mr. Nguyen Trong Khang – Chairman of MK Group committed to support banks and financial institutions in Vietnam to cary out the migration as well as remove pressures on technoloy, infrastructure, experience in card issuance implementation if MK Smart was selected.